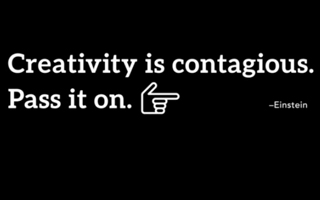 Imagine the average office party. Now take that picture, flip it upside down, make every inch interactive, throw in some gravity-defying artwork, and voilà—BNO's out-of-the-box bash, Creativity & Cocktails.
Don't believe us? Check out our event video below to see for yourself, or just keep reading for six tips to help you turn your next event into a had-to-be-there-experience. Password: BNO14
1. Develop an engaging theme
Take that theme and think about its key ingredients. Creativity & Cocktails was all about inspiring our guests' creativity, being truly innovative, and involving a whole lot of fun.
Your key ingredients give you a blueprint for creating great event experiences. Our ingredients helped us design unique interactions—from handheld 3D printing pens to a life-size Instagram photo booth, an abstract iPad portrait creator, and lots more.
All the things going on at your event should add up to one single idea—your theme. And when guests leave, make sure they take that idea with them.
2. Make a great first impression
One tenth of a second. That's how long the average person takes to form an opinion of a stranger when meeting them for the first time. And, consequently, how long guests will take to decide if a cozy night of Netflix is a favorable alternative to your event.
Reverse their expectations with branded surprises.
For Creativity & Cocktails, we met guests at the door with BNO-green cocktails in test tubes to get their creative juices flowing and interactive name tags to creatively identify them with unique icebreakers, such as their favorite genius and individual thinking style.
3. Design an event roadmap
Everyone is going to experience your event differently, but a good way to create consistency is by giving guests a simple guide that shows them the big picture and key highlights.
We handed out maps with locations and descriptions for our 10+ different creative experiences to help guests easily navigate the event.
By checking in with their interactive name tag at each, they could keep track of which experiences they had visited and which ones they still wanted to try out.
4. Leave your guests room to breathe
Some people won't want to jump into the action right away, so set aside space to let them settle in, grab a bite to eat, and start a few conversations.
We stocked our conference room with shrimp and sushi "brain food" appetizers, which perched on top of a live fish aquarium—a tasty payoff on the theme of creativity. But we also used our conference room to introduce the idea of "experiences" in a low-key environment.
At Story String-Along, guests collaborated to write an epic tale on a giant whiteboard, one sentence at a time. On the other end, iPortrait let them design abstract portraits and upload their unique creations for everyone to see. Key ingredients: Check.
5. Capture your event with powerful visuals
Your event might only last a few hours, but it can live on forever in the form of photos and videos. Think about the story you want to tell post-event and develop a shot list for your photographers and videographers.
For those who couldn't attend, visual content will help you tell a vivid story that makes them feel like they were there—multiplying your event's payoff.
A little planning will go a long way in making it easy to edit a video that can be used in a lot of different ways (from social media to company intranet).
6. Look for ways to do good
Tap into the power of people to broaden your impact by connecting an aspect of the event to your local community or a cause that's relevant and important to your company.
For Creativity & Cocktails we created Mass Imagination, an experience that's all about transforming imagination into reality. With the help of partner company Budsies, we're taking guest and staff drawings of fantastic creatures and characters and turning them into real plush toys.
Stay tuned to see all the top-voted designs. Each winning drawing will be hand-made by Budsies and then donated by BNO to a local cause.
Missed any part of Creativity & Cocktails?
You can read about each of the experiences and see pictures here.
Planning an event of your own?
BNO can help. Get in touch to learn how our expertise—from interactive displays to full event production and management—can help leave your audience with a lasting impression. Visit our site to start exploring the possibilities.